PROFESSIONAL SECURITY SERVICE IN COFFEE SHOP
admin
The coffee shop is main entertainment component in society, people often come here to relax, chat with friends, work, … Coffee shop is often very crowded, as well as highly risky with looting, disorderly conflict, hence the need of protecting the safety of lives and property of the client here is high.
To ensure security and order, creating comfortable and quiet spaces and for guests to enjoy a coffee or chat with friends in the holidays, birthdays, weekends ….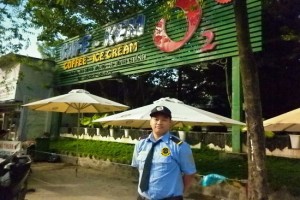 Yuki Sepre 24 security company provides professional security service for cafe shop to give customers absolute satisfaction.
Although this is a type of security service in small scale, our company always supply the best security service. The specific tasks of security service in café shop are:
control all assigned positions in working time
Regularly inspect the fire protection and fire safety in the café shop
Observing, preventing disruptive behavior, disordered behaviors which influences others
Check the bags of staff when they come in and out, manage parking.
Based on the specific tasks of protecting the cafe, duty of professional security man are:
– Ensure security and order, prevent cases of disruptive, destructive, illegal entry into the coffee shop.
– Prevent the cases of begging, selling lottery tickets, marketing or questionable people from entrancing the coffee shop.
– Monitoring of people coming in order to proactively detect of suspicious objects to coordinate for monitoring
– Prevent bringing fire, dangerous objects such as guns, knives, explosives, poisons ……
** For parking: Guide and arrange tidily and scientifically the parking area in order to create convenience for taking the car out. Record and control tickets for guests, avoid loss of the car or the wrong car. In case of lost tickets, security man must keep their vehicle, require visitors to present relevant documents, otherwise, it is required to hold the vehicle to solve later.
All are aimed at the common goal of protecting the security and safety of assets as well as the health of customers at the cafe. Yuki Sepre 24 professional security service company always follow professional principles in training employees on professional security tasks, martial arts, handling situations, and especially attitude of staff professional security.