Professional security in Hospital
admin
Hospital is a place has crowd of patients, relatives, students, elderly, children. Therefore, the safety for those people in hospital is a specially important responsibility of security man. Constantly checking and guarding around areas in hospital are important to ensure the safety for people in there.
In the crowded area like hospital, bad people may easily enter and cause the threatens to asset and health of many people including even doctors, nurses….In practice, there were many cases of stealing, low security which negatively affect to the function of medical treatment as well as threaten the safety of mental and physical of people.
At the same time, there are dangerous cases of patient attacking doctors in hospital in working time or cases of relatives destroying the facilities of hospital, bandits cause insecurity in hospital by taking it as a place for fighting to each other. All of those cases strongly affect to the assets of hospital and health of people in there.
Because of those reasons, professional security service takes responsibility of ensuring the security in hospital areas in order to create the advantage environment for medical treatment of doctors and nurses. Yuki Sepre 24 security company supplies the hospital security service with criteria of safety, trustworthy which will make customer totally satisfied when using our service.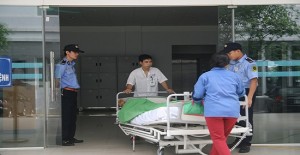 Tasks and responsibilities of professional security in hospital:
Serving at right time, right place and with right trained skills.
Seriously follow the regulation as well as conditions in the signed contract.
During the working time, there would be neither personal tasks nor leaving position, changing working ship without the permission of upper supervisors.
Always being in the attitude of willing to serve and fight for the security of hospital.
Being In time to prevent and solve situations threatening to the security of hospital and patients.
Recognizing and observing the questionable subjects and the surrounding areas in order to well prepare for reactions.
Actively support patients and staffs in hospital to create the nice images of security man.
Always ensuring the strong cooperation among all security position to support and agree on effective action strategies in ensuring security.
Being clear about the situations and contexts of area for good and fast cooperation in case of happening problems, especially being clear about information of local security institutions for support in emergent cases.
The professional working process of Yuki Sepre 24
Allocating staff to investigate and study about the facility, nature in areas which requiring the security service.
Arranging and allocating suitable human resource basing on the area and daily patient volume of hospital.
Arranging necessary things based on the surrounding area.
Allocating responsibility, tightly control each position such as gate, parking area, corridor, surrounding areas.
Investing for necessary equipments, machines which supporting for professional security tasks. Security man is trained with necessary skills and knowledge about professional tasks, martial arts as well as skills of solving accidental situations.
Forming some proposals for solving accident situation including: explosion, trouble makers, crooks…
Monitoring implementation